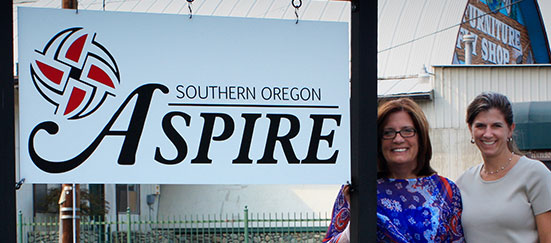 Serving the Rogue Valley Community
The CFO Solutions–NW team is committed to supporting the needs and fostering the growth of our region.
An active contributing member of Southern Oregon Regional Economic Development, Inc. (SOREDI), Linda Ganim is a Southern Oregon Angel Investment Network investor and previous year's fund manager. Linda is also a Board Member of the Asante Health Systems, Inc. and Southern Oregon Estate Planning Council (SOEPC)
Active in the local community, Jeff Works currently serves on the boards of the Grace Christian Schools Foundation, the Medford Hospital Facilities Authority, the Mt. Ashland Association, and the Medford Urban Renewal Agency Budget Committee. Jeff is married with three adult children and has lived in the Rogue Valley for nearly two decades.
CFO Solutions–NW is proud to serve nonprofit clients that support Jackson and Josephine Counties such as Southern Oregon Aspire and Pathway Enterprises.